Within the smartphone app there is a simple setup function, which allows you to create a SafeZone. Up to five SafeZones can be stored/activated. When a FiLIP "Enters" or "Exits" these locations the parent receives a notification from their FiLIP app.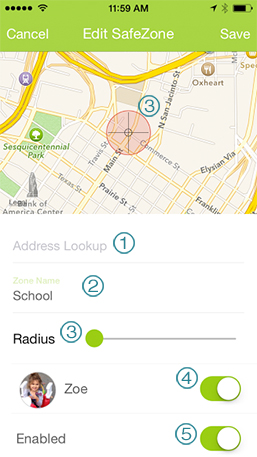 1. Address Lookup:
To create a SafeZone, simply add the address where your child (and FiLIP) is supposed to be at any given time.
Note: Remember, you can set up multiple SafeZones (i.e. "home" and "school") and just turn them on when needed.
2. Zone Name:
Name your SafeZone. You can create and store up to 5 SafeZones.
3. Radius:
Use the slider to determine the radius of your SafeZone. The red radius circle will automatically expand or shrink depending on where you place the slider.
4. Child:
Slide this on to enable the current SafeZone for your child.
5. Enable/Disable:
Slide this on if you'd like to activate a SafeZone and receive notifications alerting you when your child (and FiLIP) has entered or exited a SafeZone.
6. Delete SafeZone:
Select this option to delete the SafeZone.